About Us

WEZ CARGO & TRANSPORT SDN BHD is a wholly owned 100% Bumiputera Company based in Subang Jaya with its combined experienced people running have more than 15 years of combined expertise and are both competent and efficient in the transport delivery services to our customers.
The Management Team has considerable vast experience in the transport industry with dedication staff to our clients strong financial backing coupled and a determination to provide the great level of service in the fields of door to door delivery services in Malaysia.
DIRECTOR'S PROFILE
ERWAN BIN ZAFRY I Executive Director
At the helm of its management team is En Erwan Bin Zafry. He's armed about 15 years of experiences in Air Cargo operations. He started of his career in Malaysia Airline Kargo Sdn Bhd (MASkargo), Golden Calibre Sdn Bhd, MTR Services Sdn Bhd, Gdex Express Sdn Bhd and Matang Logistics Sdn Bhd. He has the ability to perform cross functional task and possess extensive experiences in Customs procedures.
WIRDAYU BINTI ABD JALAL I General Manager
With the qualification background of Bachelor in Business Admin major in Marketing, UiTM, she's role is to be assisting for the customer service, office administration and business development is Cik Wirdayu Binti Abd Jalal. She has extensive experience in the field of logistics and marketing.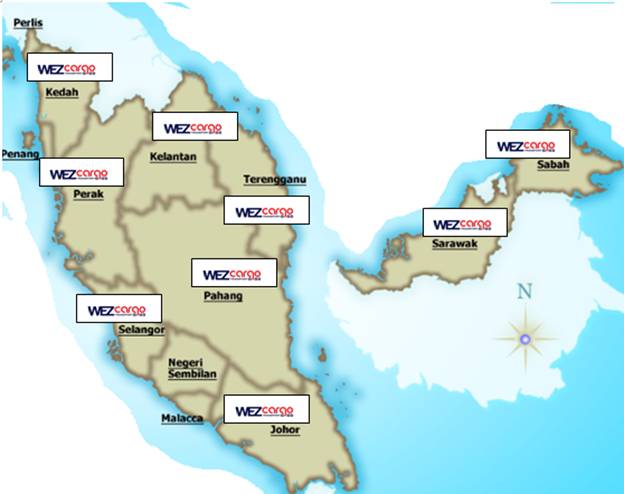 WEZ'S MISSION & OBJECTIVE
VISION
To join-up with others organization and enhance the image in market place
To have a stronger financial back-up for business expansion
MISSION
To provide quality, efficient and timely services to our customers.
To provide user friendly services to all its customers as well as business associates.
To provide the good condition of services, affordable and satisfied the customer's requirement.
Our MOTTO
Your Affordable Delivery Partner'
OUR OBJECTIVE
To remain compact and competitive service in our approach to meeting all our customer requirements and serve to support our objective of providing 'The Best Delivery Service' in the market